SHOELINE - OUR STRENGTH
PEOPLE / PRODUCT / PROCESS
Professionally qualified, well trained, committed and experienced workers & staff with high skill sets – our people are our greatest asset.
Wide Experience in working with top brands with demanding schedules/quality standards. We have an enviable track record & an enduring relationship with each of our customers.
Systems in place for implementing the highest technical standards in Shoemaking.
Inherent strength in raw material sourcing from many different origins worldwide & in leather making in Ovine & Bovine materials. We make our own Leather from Wet Blue to Finished, in a dedicated tannery located in Chennai.
Financially sound with Professional Management
Well equipped factories with modern infrastructure for quality & productivity.
Option of making different types of constructions like moccasin, stroebel, inner stroebel, side wall stitch, handstitched, stitchdown, sacchetto.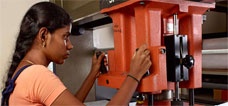 Presently, Shoeline has four Leather Shoe Upper manufacturing facilities in Chennai, with 15 production lines & a capacity to produce 3000 prs of Shoe Uppers/day.
Well experienced in making Men`s, Ladies & Children`s Shoe Uppers.
We can make small production runs in each production line, making multiple styles at one time.
Being a mid - sized company, we offer specialized production rather than mass production, with more attention to detail, while also addressing the specific needs of each customer.
The production in these units is segregated customer wise to ensure complete dedication to the individual requirements of each customer.
All the factories are located conveniently in prime industrial areas in Chennai, where the infrastructure is readily available.
Shoeline seeks to grow its business by offering innovative leathers/constructions which are differentiated from the competition by their performance, optic, quality & consistency & which are backed by the highest standards of customer service.
---
OUR STRENGTH

OUR PEOPLE,
PRODUCT,
PROCESS
---